Welcome to the latest edition of Degrading the Charts! It's been some time and I'm sure you miss me. This time around, I'm looking at the most recent iteration of the Billboard Hot 100, specifically the top 10 tracks for the week of May 9, to see what radio monsters will delight you and which ones will make your ears puke everywhere. 
1. John Legend – "All Of Me"
It's super-lame to see the eminently likable John Legend reach #1 with a song as boring as this. Literally the only difference between "All of Me" and your average Coldplay bullshit is the depth of emotion in Legend's voice, which remains stellar. Chrissy Teigen (his wife) was probably over the moon for this cheesed-out catastrophe.

2. Pharrell Williams – "Happy"
Pharrell will not age, and this song will not die. As the Dothraki say on Game of Thrones, "It is known." I wrote about it in the last installment of Degrading the Charts. It's an enjoyable, danceable pop song that could've been tossed off in a '70s jam session. Yes, it's playing everywhere all of the time. But like, in the bracket of overplayed songs, you could have far worse shit than this. Also, Pharrell is on Future's "Move That Dope," 2014's best song so far, so he can stay.
3. Ariana Grande – "Problem" (feat. Iggy Azalea)
Ariana Grande is a Disney Channel veteran, which is synonymous with "Ariana Grande is safe and boring." This is true regardless of what I'm about to say – no real chances are taken here, no rules broken. That said, this song is kind of a fuckin banger.
There's no reason why this should work. First off, Iggy Azalea is featured, and her rap verse kinda blows. And Grande has kind of an EveryDiva voice, accomplished but lacking character. This song is the first time she's shown signs of life. But, this beat, though. Like "Talk Dirty" (we'll get back to that), the saxophone melody and bass-heavy underpinnings make it stand out from the Eurodisco/EDM sounds that've ruled the Billboard Hot 100 for years. It's super-dumb, but fun and musically interesting – despite its flaws and its inevitable role as an anthem for Jenny-No-Swag basic girls and the Johnny-No-Style bros pursuing them in the club.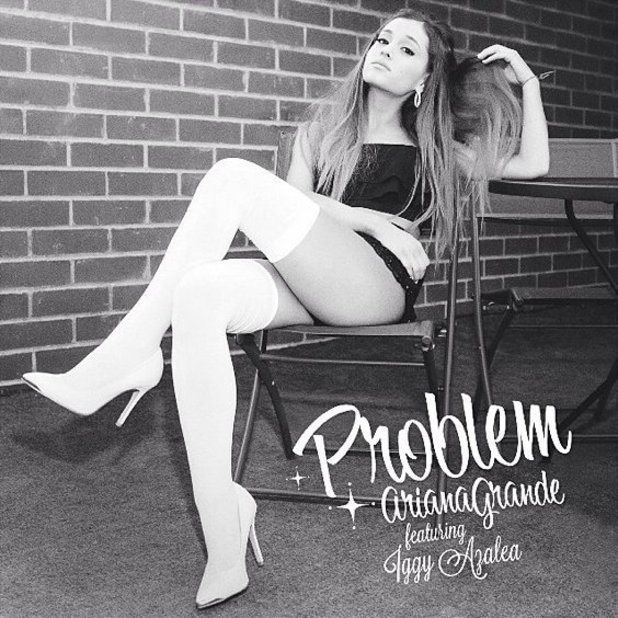 4. Iggy Azalea – "Fancy" (feat. Charli XCX)
This being next up is clearly punishment for the shit I just talked about Iggy. It's the third single from her 18-months-delayed debut album The New Classic, and the only one to show life on the charts. Also, it's the only song on that record that doesn't totally blow. (Trust me. I listened all the way through. It sucks. It was like cutting.)
Azalea has a decent natural flow, and she's at her best on this track, aided by one of the album's few interesting beats. Unfortunately for her, Charli XCX's hook and guest verse do Iggy a disservice, because CHARLI XCX IS AMAZING AND RAPS CIRCLES AROUND HER WITHOUT EVEN BEING A RAPPER. "Fancy" is fine, but try Charli XCX's excellent new single "Boom Clap" (or her 2013 album True Romance) instead.
5. Katy Perry – "Dark Horse" (feat. Juicy J)
Wrote about this last time. If clicking the link is too TL;DR, here's the summary: Great beat, trap for soccer moms, Juicy J always welcome even in PG-13 mode, Katy doesn't embarrass herself, overall solid pop song. (Sidebar: Katy and John Mayer split up and she's allegedly dating Diplo now, which is like trading in a shitty pickup truck for a used partybus with seats ruined by molly water, Bud Light Lime and come stains.)
6. Jason Derulo – "Talk Dirty" (feat. 2 Chainz)
Also covered last time. Short version: Beat great for same reasons as "Problem," but funkier. Still semi-xenophobic (or at least culturally insensitive as fuck). The 2 Chainz verse still fucking rules, because 2 Chainz. "CLOSE TO GENIUS, SOLD-OUT ARENAS, YOU CAN SUCK MY PENIS." Quoted that last time. Don't fucking care. Still funny.
7. DJ Snake – "Turn Down for What" (feat. Lil Jon)
At the risk of contradicting a piece I wrote about what trap music is in the 2010s, let me say I AM SO FUCKING DONE WITH IT. At least in the form in which it currently exists. It's identity-less, dominated by this synth-and-drop-heavy crap. I'm over EDM that doesn't sound corrosive and menacing – Evian Christ, Arca, TNGHT, basically anyone who worked on Yeezus not named Daft Punk.
Sorry, I buried the lede. This song is pretty worthless on its own, but the absolutely batshit music video is well worth putting up with it. Glad Lil Jon is keeping busy.
8. Justin Timberlake – "Not a Bad Thing"
What in the actual fuck happened in between volumes 1 and 2 of The 20/20 Experience? Vol. 1 is an excellent classicist pop record. Vol. 2 is disorganized bullshit. Basically, 2 is either overlong weird dance tracks ("True Blood") or super-sappy safe bullshit.
"Not a Bad Thing" is the latter. It's beneath Timberlake to make music that sounds like what you'd expect of an N'SYNC refugee, when he spent years defying expectations to create truly forward-thinking pop.
9. Idina Menzel – "Let It Go"
I haven't seen Frozen, and probably won't. I also really fucking hate musicals. There are few exceptions to this rule, mostly musicals about actual musicians. Like 8 Mile.
So I have no idea why I find this song great. It's a tween-girl anthem, it's sappy and the lyrics are about magic and fractals and shit, but what can I say? Menzel's voice is outstanding in a way many current Broadway dipshits are not. I credit her past as a smoker with adding just a dab of grit to her clean pipes, because I love recommending smoking to people.
10. Bastille – "Pompeii"
Also covered last time. It sucked then, it sucks third-stage-syphilitic dick now. This is called "rock" for reasons I can't possibly understand. For a real rocker, "I'm Not Part of Me" by Cloud Nothings is currently the best rock song of 2014 (and possibly the decade so far), and you can easily find it – just not on the Billboard Hot 100.
If you made it this far, here's your antidote – a playlist featuring my favorite songs of this year to date: